Like something out of an H.G. Wells novel, an invisible threat emerged suddenly and without warning, and then progressively and methodically brought the world to its knees. With all of our technological advancements and collective scientific and economic resources, we have been rendered powerless by a mysterious Corona Virus that baffled the world's best scientists for six months, while simultaneously eroding not only jobs, but entire segments of commerce. Restaurants, bars, fitness gyms, concerts, conferences, sporting events, salons, airlines, tourism, movie theaters and more, all devastated and left in the virus' wake.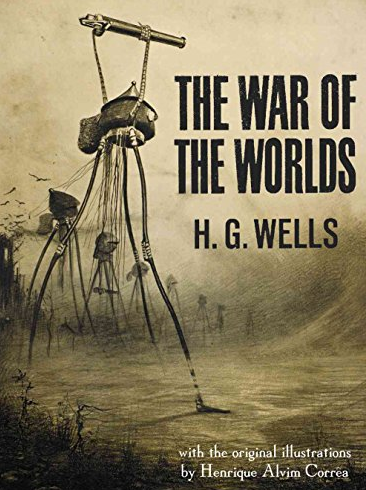 We also know now, though most "us" of already knew, that black people were being disproportionately affected. Not only as a result of higher likelihood of exposure to the virus itself due to a higher proportion of the black population being in those occupations deemed as "essential", but also due to lack of clear information in the early stages before states and localities began to mandate masks for business operations. The black community has also been heavily effected by rampant business closures due to reduced patronage, and operational restrictions mandated by Federal and subsequently State government.
Millions of American struggle to cope with the new rules of Life in the Covid-19 era. Masks, social distancing, prohibition of large gatherings. So to hear of a young black entrepreneur who has found a path through the new matrix, and come up with a business plan that fills a niche within the new restrictions, is deserving of a spotlight.
Space City Shows is the brainchild of Khairi Sharif, 26, of Houston, Texas. It is a pop up drive in, located in the EADO area, east downtown Houston. Sharif, like millions of others was bored being stuck at home. As a person who enjoys movies, he had thoughts of going to the cinema, but wasn't comfortable with the idea of going and then sitting in a closed room with strangers. So, in examining the problem through his entrepreneurial lens, identifying a problem and then crafting a solution, the idea of Space City Shows was born.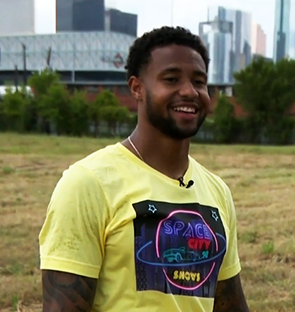 Khairi spent several months, aided by family and friends of his community, navigating the gauntlet of logistics necessary to bring such a venture to fruition. Identifying an adequate location, building a screen, applying for and securing the proper exhibition licenses, and molding a business model that complied not only with state requirements, but also addresses the concerns that his customers might have in this Covid-19 era.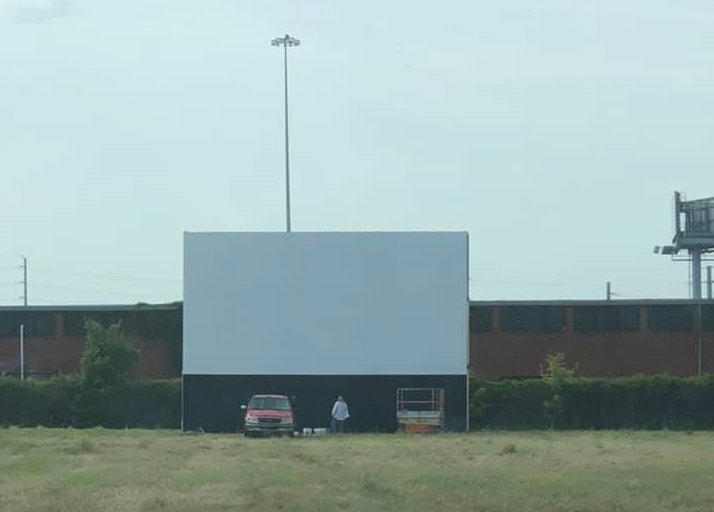 In the case of Space City Shows, Sharif has implemented a cashless model. Customers wishing to attend a screening purchase tickets online, at a rate of $30 per vehicle. Customer receive a confirmation via email, with a barcode that is presented at the drive-in. The attendant scans the code, and then a parking attendant directs the car to a designated parking spot. Parking is designated based on a first come first serve basis. Food trucks provide food and drinks, versus the traditional concessions stand, which creates symbiotic relationships with the food truck community, generating business for them and providing a needed service for the customers of Space City Shows. Presently, the drive-in screens already released films, with an emphasis on black movies, though popular mainstream films are also shown.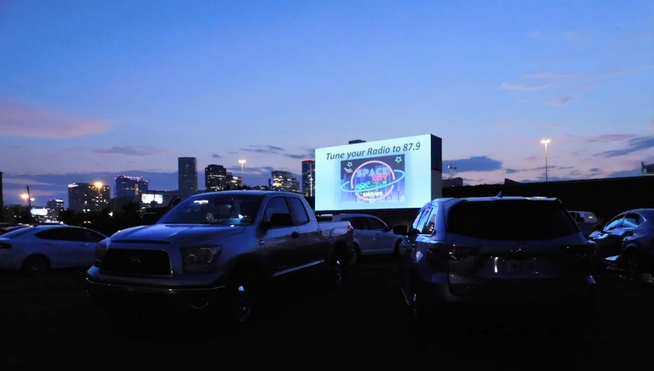 It is ironic that in this modern era of digital multiplexes, IMAX theaters, and streaming services, that the drive in, seemingly on the brink of extinction, has reemerged. Not only is it a custom fitted solution for the boredom and cabin fever dilemmas presently ailing societies around the world, but it has also energized a community, and provided hope and inspiration for other young black entrepreneurs.
Sharif, has indicated that the EADO location is serving as a pilot program of sorts. If it works out, he has ideas of building other locations in Houston, and perhaps other cities around Texas. We will certainly be rooting for him, and wish him all the best. For more information about tickets or showings, you can get details at www.spacecityshows.com