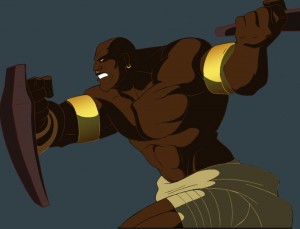 The official release of the Ancients & Immortals animated trailer for Book Seven; Archangels in Exile approaches, surely and steadily, though not fast enough for those of us on the inside, with access to the production footage.
But...patience is a virtue, and anticipation can be a great motivator, so with that in mind, Imajen is proud to release a "first look" at the reboot of one of the most dynamic and characters of the story, the archangel, Jelani.
Immensely powerful and equally volatile, Jelani is one of the younger archangels, so understandably is a bit of a "hot head"(pun intended, for those familiar with the story).
The embodiment of unbridled boldness, power, and ferocity, Jelani is one of the author's favorite characters of Book Seven. As such, his entrance into the story is a most dynamic imagining, and that event was specifically written into the animated trailer...and is most definitely an attention grabber.
This is the second reveal of a major character reboot, leading up to the official trailer release. Enjoy!
Next up.....Sadiki.