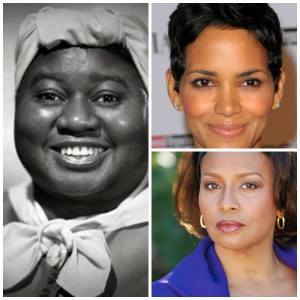 When one endeavors to interpret and assemble the varied messages underlying the images of Black Women as portrayed in the media, particularly when balanced against a historical or cumulative perspective, one determines that the findings are at once contradictory and in agreement, defined yet malleable, insightful and ignorant, encouraging and culturally destructive. All in all, they are the same images and messages that have been renewed and recirculated from the beginning.
Whether you start your examination from the present day and work your way backward, or start from the beginning and follow the trail forward you will find the same destructive representations over and over.
From Hattie McDaniel's academy award winning portrayal of "Mammy" in Gone With the Wind(1939), to Viola Davis portrayal of Abilene Clark in The Help(2011) and her immortalized, cringe-worthy line "You is kind, you is smart, you is important."
From the exploitation of Saartjie Bartman, a Khoikhoi African woman, who because she had extremely large buttocks(a trait common to Khoikhoi and bantu women), and was sold to an English doctor and exhibited in European sideshows(freakshows), to Beyonce or Nikki Minaj, who exhibit themselves(shaking/emphasizing their buttocks) publicly as a significant part of their music act and brand(image) promotion.
From Gloria Hendry, who "made history" as the first Black woman to be a Bond girl, to Halle Berry's Academy Award win for allowing herself to be demeaned and violated on screen by a redneck played by Billy Bob Thornton(of all people), to Kerry Washington's portrayal of Olivia Pope who liaises with the President. On television, you have Nicole Beharie in Sleepy Hollow, Candace Patton on The Flash, among others. NOTE: Halle Berry was also privileged to assume the role(or assume the position, depending on your perspective) as a Bond girl. In her own words, "it was a great honor".
From the emasculating Sapphire from the 1930's Amos and Andy show, to 1970's television show Sanford and Son's Aunt Esther, to Tyra Ferrell as Brenda Baker in Boyz in the Hood(1991), to the first runner up to the crown of "Queen" of the angry black woman stereotype, Tasha Smith(Why Did I get Married, Why Did I Get Married Too, ATL,...), to the undisputed Queen, Jennifer Lewis(Poetic Justice, Meet the Browns, Not Easily Broken, Think Like a Man, Think Like a Man Too).
Add in the relentless parade of twerking, booty-shaking video vixens to be found in any Rap video produced these days, the proliferation of "reality shows" such as Housewives of Atlanta, NBA wives, R & B Divas, Bad Girls club, Love & Hip Hop, and the result is nothing less than an unequaled, powerfully effective bombardment campaign.
In contrast with the campaign against the Black male image, which is relatively focused with consistent messaging, the manipulation of the Black Woman's image is much broader. With this wider approach and a softer touch, Black Women can be attacked on one level, while marketed to at the same time.
Watch the commercials during the breaks of shows which have a high viewership of Black female consumers, and you will see the familiar pattern. Watch them with the sound muted. Advertisements tend to be predominantly for hair products, make up, clothes, dieting. All these ads subliminally convey ideals of beauty, health, success, and happiness, through indirect correlations(of varying degrees) with the physical and cultural standards of beauty based from a white perspective. Once you've watched enough sound-muted cosmetics commercials, you can unmute the sound and hear the the throwaway lines like, "perfect color", "ideal matching", "blends with my natural skin tone", which are spoken by the white models.
How many shampoo, conditioner, fashion commercials have need we watch, where there are shots of two or three white women with long straight hair that bounces and flings as they do runway style walks and spins for the camera, and then suddenly a black woman appears, typically the same slender to skinny build(typically medium brown to light complexion), who also has long-ish straightened hair? Granted, it surprises me every time(not hardly), that she fits right in with the other girls. Aside from her skin color, she is essentially the same, a Black barbie; the black version of countless named and nameless "models" that you see on billboards, magazine covers, etc.
Perception is reality, and this dynamic figures significantly into this dilemma, because how you are presented effects how you are perceived, so how Black Women are perceived is what shapes the opportunities and lack thereof for Black Women in film and media.
Contrary to the popular opinions, I don't expect much change to come from the big players such as Tyler "Madea" Perry and Oprah. The real change will hinge on the smaller independent production companies, and/or Black Women filmmakers and producers that are not vested in the old stereotypes, and the willingness of the black community to support their work. It seems easy enough, right?
Well, many black folks do not realize the subconscious acceptance and dependence upon the stereotypes that we have come to expect to see, even though consciously we may despise them. Without understanding why, many cannot relate to new, fresh, and unique portrayals of Black women or Black people/culture in general.
Nevertheless, this will be the challenge, for Black women to take the reigns for their own imagery, and determine how they wish to be presented, portrayed, and perceived....and turn that perception into the new reality.