The Magnificent Seven, a $108 Million dollar Western, by veteran action film director Antione Fuqua, is a 2016 reboot of the 1960 Western of the same name, directed by John Sturges and starring Yul Brenner in the leading role. -That film was in fact, an American remake of the 1954 Akira Kurosawa film, Seven Samurai.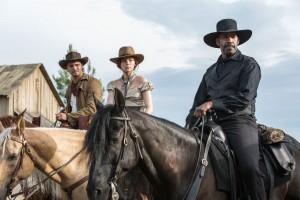 In the 2016 version, the leading role is helmed by Denzel Washington, as Sam Chisolm, a  warrant officer(bounty hunter), who ventures into a town whose people are being terrorized by Bartholomew Bogue, a ruthless land baron, played by Peter Sarsgard. One of the townspeople, the recently widowed Emma Cullen(played by Haley Bennett), approaches Sam Chisolm with the proposition to enlist him to help her and the townspeople get out from under the thumb of Bogue.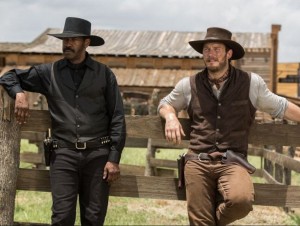 Once Chisolm decides to help, he begins the process of assembling a team of brave and skilled fighters willing to help him in his mission to free the town from Bogue and his henchmen.
Judged on its own merits, Magnificent Seven is an entertaining film, with great production values. The lighting and costuming was well done, with a particular mention to the war paint make up of Red Harvest, the Comanche warrior recruited by Chisolm to become one of the team.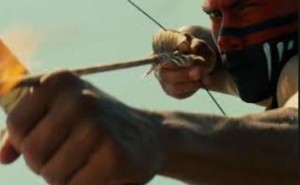 Without a doubt, Red Harvest, played by charismatic newcomer Martin Sensmeier, was one of the standouts in the film, and visually the most captivating.
The film has a run time of 2 hours and 13 minutes, and starts off a bit clunky, with the "set up" feeling bit a clichéd and forced. After the dilemma is established, which drives the film forward, there are a number of points along the storyline where it is very difficult to connect with a few of the characters' motivations for agreeing to participate in such a dangerous undertaking. For some of the characters, it seems to make sense, but for others....not so much.
The story will also likely give Western film buffs a sense of deja vu, as it borrows from other classics such as Hang 'Em High and High Plains Drifter. In all fairness though, it could merely be a nod to those films, as Fuqua is a fan of the genre.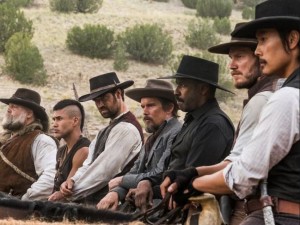 The saving grace of the film is the acting. Denzel Washington bring his typical command of the screen in the lead role, as does Chris Pratt who shows surprising versatility in his portrayal of the quick-witted gambler & gunslinger, Josh Faraday. Ethan Hawke turns in an impressive performance as Goodnight Robicheaux (a composite character rolled over from the 1960 version), as a reknowned shooter existing as a shell of his former self. Billy Rocks, played by Lee Byung-Hun, is presented as Robicheaux's partner in crime, though the origin or basis of their friendship is never fully explained. Vincent D'Onofrio plays Jack Horne, a well known tracker with a seemingly questionable grip on reality, and a hinted at history of killing Native Americans. This would seem to set up an additional story arc with the Red Harvest character, but that aspect is not fleshed out. -Again, clunky storyline. Peter Sarsgard turned in a solid, albeit unsettling performance as the antagonist, Bartholomew Bogue, and Haley Bennett did well in her turn as Emma Cullen, the headstrong young widow determined to get justice.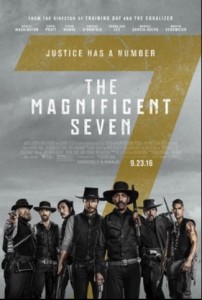 In judging it as a remake, there is a bit of a trade off. Whereas the 1960 version had a cleaner storyline and more believable character buy ins, this 2016 version has better acting and directing overall, while boasting a more diverse cast.
I've always enjoyed Westerns, so going to see this was a no-brainer. Magnificent Seven storyline, with Denzel Washington in the lead role? Come on. Nevertheless, I can recommend this film to friends and family without conditions, with the exception of those that have an odd aversion to Westerns.
I rate The Magnificent Seven at 7 out of 10. Not perfect, but entertaining enough to hold your attention for 2 hours plus, without a check-your-watch reflex.
P.s. - The Spanish version poster is better looking.