For some time now, Netflix has been changing the way film and television productions are distributed and delivered to viewers, but for the past couple of years they have also been influencing the way films and series' are produced and created.
With a customer base estimated at 50 million globally, and annual revenue of $6.7 Billion dollars(2015), the Los Gatos, California based company has the deep pockets which enable them to create original content, as well as the direct-to-consumer access which gives them the ability to circumvent the infamous Hollywood production pipeline.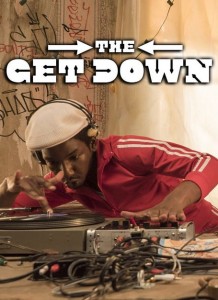 No project highlights their unique position more than The Getdown, the $120 Million dollar original series, directed by Australian film director Baz Luhrmann.
The Getdown, chronicles the birth and rise of Hip Hop culture and Rap, as experienced through a group of black youths, growing up in the Bronx, NY in the 70's. The cast is made up predominantly of newcomers and relative newcomers, supported by an adult cast of established veterans, but across the board the performances are solid.
Though initially budgeted at $2.5 Million dollars per episode, it appears that there was somewhat of an open checkbook for this project, as the final per episode tally hit $10 Million dollars. -I don't know what the $2.5M episodes looked like, but the final product looks superb...and I find it difficult to think that they could get the best quality, including the impressive soundtrack and collaboration of the boasted artists for a mere $2.5M.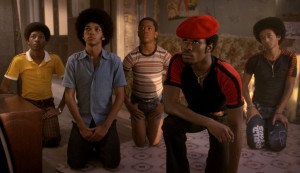 Interestingly enough, we didn't hear much about the project until a couple of weeks prior to the August 12, 2016 release, though that may or may not have any significance seeing that Netflix is its own platform, and they are not beholden to external distributorships, ticket sales, or advertising sponsorship for survival. However, once Netflix did begin to promote the project, you could not avoid hearing about it, as it was the landing page whenever/wherever customers signed in to Netflix. And while only six episodes were released on the 12th, the cool thing about Netflix is that all six episodes were released on the 12th.
Of course, this flies in the face of the traditional advertising driven model of network and cable television series' where episodes are rationed out over a course of months, but when you have your own platform and you're self funded, you can make your own model. And personally, I like the binge-ability.
In the end, or at least 6 episodes in, we are "down" with The Getdown. If you have Netflix, be sure to check it out.
If you don't have Netflix...well, all I can say is thanks for reading, and keep a look out for when it eventually hits the stores...at some point in the future....I guess?