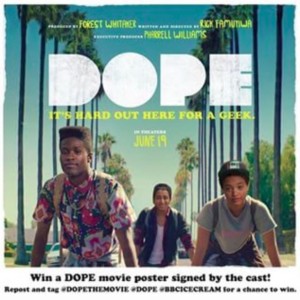 Dope, is the latest film by Nigerian-American writer/director Rick Famuyiwa, an urban coming-of-age story of sorts, centered around a Black geek(of Nigerian descent) and his misfit pals, trying to survive and thrive in a ghetto of Inglewood, California. Having seen several early trailers for the film, Dope was one of my more anticipated movie outings of summer 2015. Though as it turned out, the trailers are somewhat misleading with regard to the plot, as it is implied in the trailers as a figurative relationship to the title, as opposed to the literal relationship as portrayed in the finished film.
That aside, Dope is an entertaining film, starring Shameik Moore as Malcolm, the leader of a tight-knit trio of geeks, accompanied by Kiersey Clemons as the tomboyish, outspoken lesbian, Diggy; Malcolm's ride or die homegirl, and Jib; the urban Arabic member of the crew. The three of them, through a misfortunate chain of events, find themselves faced with making morally and ethically compromised decisions that steer them astray and threaten to cast them into a downward spiral toward all too familiar, tragic consequences.
The story universe is cohesive, and the material is handled and paced well for the first two thirds, quickly introducing the characters, and establishing the chemistry of the trio, while simultaneously revealing their lowly position in their high school pecking order, and their precarious existence in "The Bottoms"; a tough, crime-ridden area, dictated by gang violence and the drug trade. If I were being overly critical, I would say that there are a number of occurrences that would never fly under real circumstances, but as this is a work of fiction(and God knows I've suspended critical thinking on far less interesting plots.*cough*Jurassic World*cough*), I just took it for what it's worth, and let the rest ride for enjoyment's sake.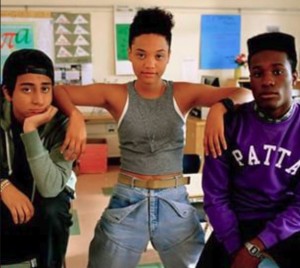 The acting is good, with a supporting cast that is quite diverse and well rounded. Kimberly Elise portrays Malcolm's mother, Zoe Kravitz plays Nakia, Malcolm's love interest, with Tyga turning in an impressive performance as DeAndre; the leader of a drug gang, and Malcolm's rival for the affections of Nakia. There are cameos by Roger Guenveur Smith, Bruce Beatty, and Rick Fox, as well as narration by Forest Whitaker, and DeAundre Bonds reprising his role as Stacey - a nod to the Famuyiwa's 1999 film The Wood; another story set in Inglewood.
The last third of the film seems a bit rushed and confused, as though Famuyiwa lost sight of where he ultimately wanted to go this film. While the first two thirds, though imperfect, presented original story and perspectives, the last third struck me more like a mash up of several films that I'd seen before. The two that rang very heavily in my mind are Risky Business and Fresh, with a dash of Project X and Half Baked tossed in for good measure. Of course, it could be that Famuyiwa purposely did it, as an homage to those films, but if he did, then it was a mistake in my opinion, as the film could have easily have found it's own way home without such crutches. If he didn't purposely do it, then...well um, yeah...might want have another writer on call for the next one, to help bang the kinks out of that third act(if necessary).
All things considered, I rate Dope at 7 out of 10, and would recommend the film to friends without any caveats. I believe that it could and would have been a tighter film, if the last third of it was handled differently, but even so, I could sit through it again...and at some point, I'm sure I will.